Positive Behavior Interventions and Supports
HHS's Behavior Purpose Statement:
The purpose of our PBIS program is to foster and promote a safe, encouraging, and dedicated school community that enhances student learning through teaching and recognizing positive behavior.
What is PBIS?
Positive Behavior Interventions and Supports (PBIS) is a proactive approach to establishing the behavioral supports and social culture that's needed for all students in a school to achieve social, emotional and academic success. Attention is focused on creating and sustaining primary (school-wide), secondary (classroom), and tertiary (individual) systems of support that improve lifestyle results (personal, health, social, family, work, recreation) for all youth by making targeted misbehavior less effective, efficient, and relevant, and desired behavior more functional.
PBIS schools organize their evidence-based behavioral practices and systems into an integrated collection or continuum where students get support based on their response to intervention.
A three-tiered prevention logic requires that all students receive support at the universal or primary tier. If the behavior of some students is not responsive, more intensive behavioral supports are provided, in the form of a group contingency (selected or secondary tier) or a highly individualized plan (intensive or tertiary tier).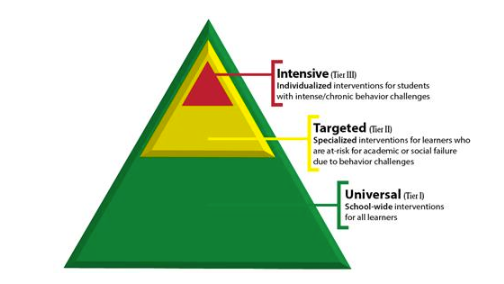 Why Prioritize Behavior Support?
Without effective behavior support, research has documented that students and educators experience negative outcomes, including:
Increased exclusionary discipline (e.g., office referrals, suspension, expulsion)

Lost instructional time and decreased achievement for excluded students and their peers

Particularly poor outcomes for students from marginalized groups, especially Black students and students with disabilities, who are at highest risk of experiencing exclusionary discipline

Increased educator burnout, resulting in alarming numbers of educators leaving the field.
What outcomes are associated with PBIS?
Schools that build the capacity to implement PBIS with annual measures of fidelity have teaching and learning environments that:
Are less reactive, aversive, dangerous, and exclusionary

Are more engaging, responsive, preventive, and productive

Address classroom management and discipline issues (e.g., attendance, antisocial behavior

Improve supports for students who required specialized assistance (e.g., emotional and behavioral disorders, mental health)

Most importantly, maximize academic engagement and achievement for all students
Evidence Base and Outcomes