COMMUNITY ANNOUNCEMENT!! Houston Public Schools has graciously agreed to host a local public safety training on Saturday April 15th from 6:00AM to 6:00PM. During this time, you will see a large public safety presence at our Elementary School at 310 South Sherman St, in Houston. Local public safety responders will be there training alongside other public safety responders from across the region. This training is focused on hostile event responses to situations, including active shooter. During this time, we have closed the school to all staff and students allowing them the room and time to complete this important training. Signs will be posted adjacent to the school as a reminder that this is a training exercise only. Houston Public Schools is very pleased to partner with public safety responders to use our facilities allowing this training to take place locally. VOLUNTEERS NEEDED: For this training, we will need 20 adults to volunteer to be actors in the afternoon. The actor's role will be to simulate an injury/medical emergency sustained during an active shooter scenario. EMS crews will be training on how to appropriately treat patients in this scenario. If you are interested in being an actor, as soon as possible, go to the following link and register as an actor under in the other section.
Check out our Events page! MNVA's All School End of Year Event has been Announced!

Due to inclement weather MNVA will be closed today, Friday, March 10, for a snow day. Stay safe!
NEW ELEMENTARY SCHOOL EVENT posted to the activities page!!
Elementary Spelling Bee information has been posted to the activities page!
Attention Elementary School Students! The Mid Year Event information has been posted!! This event is free of charge.
Middle School Students! The Mid Year Event information has been posted!!
Hundreds of you voted on our MNVA school mascot. The winning mascot received 49% of the votes. OUR WINNER IS…… MNVA OWLS!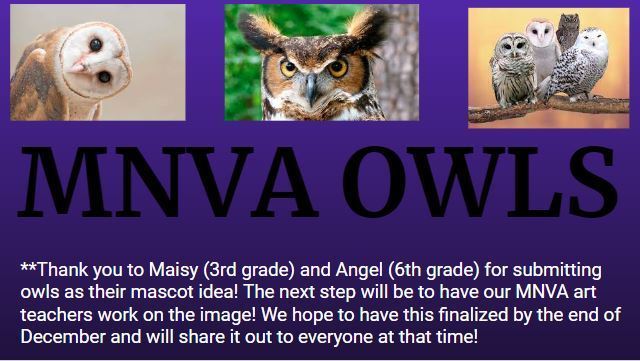 Attention Grades 9-12 Peer Tutors Needed! -Do you excel in one or more subject areas? -Do you like to meet new people and help others? -Do you want to build your resume for college applications? Contact Assistant Principal Gates for more information!!
shelley.gates@hsd294.us
K-5 Students check out the events to see details on a new outing November 18th! Visit COMO ZOO!!
K-5 Students visit the events tab to see details on a new outing! November 3rd visit the Bell Museum. Discover Minnesota's official natural history museum and planetarium!
Join us Friday October 14th for the MNVA Virtual College Fair! tinyurl.com/mnvacollegefair
Attention all Elementary Students! On October 7th come learn the science of apples!! This outing is for ALL K-5 students. See the Elementary Activities page for details!