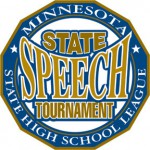 Speech
Speech is a competitive activity sponsored by the Minnesota State High School League. Participants compete in the following categories.
Creative Expression

Discussion

Duo Interpretation

Extemporaneous Reading

Extemporaneous Speaking

Great Speeches

Humorous Interpretation

Informative Speaking

Original Oratory

Serious Interpretation (Prose, Poetry & Drama)

Storytelling
Houston High School has had huge success in Speech for many years.